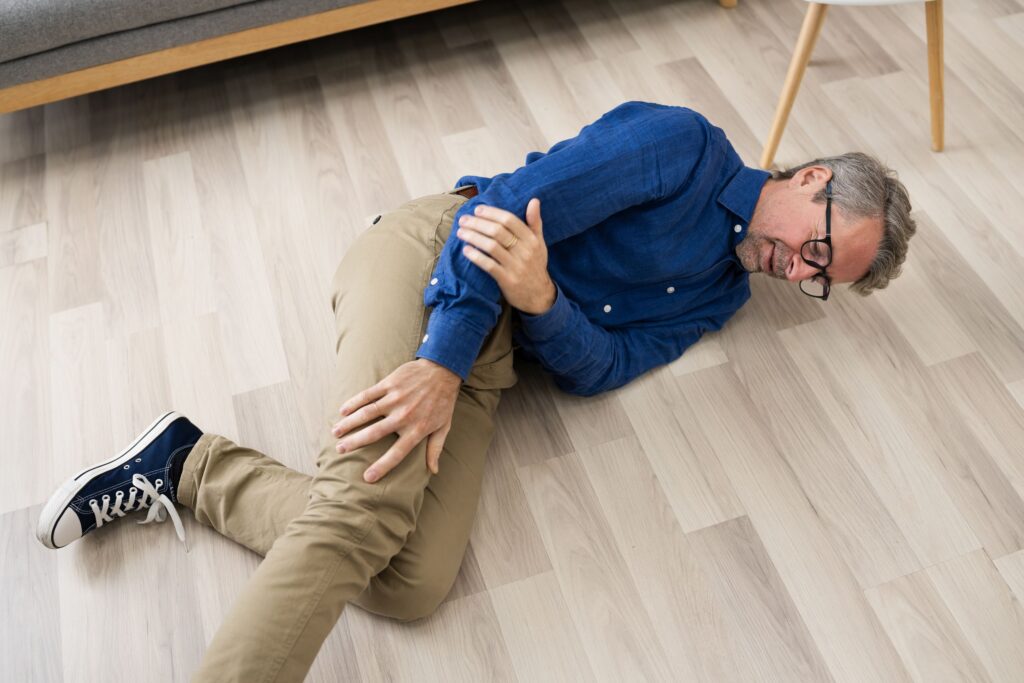 Unfortunately, there are many hazardous conditions around us on a day-to-day basis causing someone to slip or trip and fall. Resulting injuries are likely to occur. Whether they're caused by poorly maintained flooring, spilled liquids, or an errant cable, there are many things that could cause a person to fall and hurt themselves. While many of these accidents are harmless, some end up causing damage requiring expensive medical treatment and may cause you to miss time from work. In these cases, an experienced Las Vegas slip-and-fall injury attorney, such as Scott Guido, can help you.
Accidents caused by slipping or tripping are more serious than most people think. According to the National Floor Safety Institute (NFSI), more than 21% of emergency room visits are due to fall injuries. Mr. Guido can help you receive compensation for your Nevada slip-and-fall injury, including medical expenses, lost wages, punitive damages, and more.
Why Do Nevada Slip-and-Fall Accidents Happen?
Whether it's at a private business, a public park, or another person's home, the owner of the property must provide a safe environment for anyone that visits. This is known as a "duty of care." Leaving the floor wet, not fixing broken walkways, not clearing obstacles, and things of that nature show a failure to provide a duty of care. If you believe your slip-and-fall accident was caused by the negligence of a property owner then you may be entitled to compensation.
In other cases, slip-and-fall accidents may be caused by a defective product. For example, the manufacturer of an escalator, flooring panels, pathway lights, or another product may have provided faulty products that caused you to slip, fall, and injure yourself. You may be entitled to compensation in this situation too.
Whether it's proving that a negligent property owner or a defective product led to your Nevada slip-and-fall injury, Mr. Guido has the experience and knowledge to help you receive the highest settlement possible for your case.
What Injuries Can Occur After a Slip-and-Fall?
As noted by the NFSI, falls are one of the leading types of injuries for emergency room visits. Mr. Guido has served as a Las Vegas slip-and-fall injury attorney for clients that have suffered the following injuries after a fall:
Bone fractures
Deep cuts and lacerations
Soft tissue damage (ligaments, muscles, and tendons)
Concussions and other brain injuries
These injuries can change your everyday life for weeks and even months. In extreme cases, slip-and-fall accidents can lead to catastrophic injuries, such as paralysis, or even wrongful death.
Insurance companies may use deceptive tactics in an attempt to minimize the seriousness of your injuries. They may quickly offer a small settlement that's a fraction of what you deserve. Don't let the insurance companies take advantage of you. Guido Injury Law can provide you with high-quality representation so that you can win the compensation that you deserve.
Contact a Las Vegas Slip-and-Fall Injury Attorney
An injury resulting from a fall can alter your life in a few short seconds. Immediately after an injury, you'll likely be concerned with getting proper medical care and recovering as quickly as possible. You won't be thinking about negotiating with property owners and insurance companies. An accomplished Las Vegas slip-and-fall injury attorney, like Mr. Guido, can navigate these treacherous waters for you, taking care of all your legal needs so that you can focus on your health.
Mr. Guido is committed to providing you with comprehensive legal representation and treating you with compassion. "My highest priority is proving your case and earning you a satisfactory settlement." There is NO CHARGE unless you recover money, period! Furthermore, consultations are also free of charge, so there's no risk or obligation when you contact us.
Mr Guido and his representatives are available 24/7 by phone at 702-357-HURT (702-357-4878). For your convenience, you can also submit your inquiry by filling out this secure contact form. I realize that you have many choices in Las Vegas personal injury attorneys and pledge to do everything possible to make sure your needs are met when you choose Guido Injury Law.